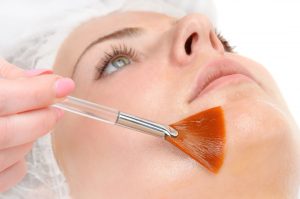 FACIAL PEELS
We offer multiple peels consisting of multiple peeling agents and a DNA repair topical treatment. Lactic acid, salicylic acid and resorcinol diminish signs of wrinkles, lighten the appearance of hyper-pigmentation, and control acne-prone skin. DNA Total Repair speeds recovery from visible signs of past photo damage.
Ready to take it up a notch…
Try Dermablading prior to your peel to exfoliate the skin and increase the results.  Our peels, developed by Skinceuticals, can be used on first time peel patients to patients that have had many peel treatments and want deeper penetration. These treatments improve the skin surface circulation, providing instant refinement for clearer, healthier looking skin by exfoliating photodamaged outer skin layers. The peels will smooth and rejuvenate the skin, which will visibly improve signs of photodamage, uneven skin pigmentation, moderate wrinkling, mild to severe acne and acne scarring.
Add an IPL photo facial immediately following for the Ultimate Anti-Aging Facial!
Any Questions? Give us a call 1 (401) 437-0120